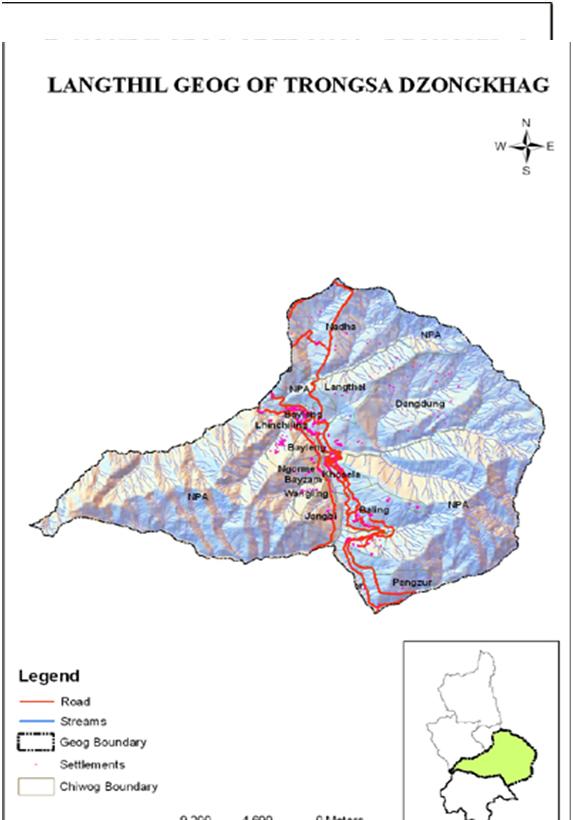 The Gewog consists of 13 major villages with 335 households and 2637 nos. of population as per the PHCB-2005 census. The Gewog covers an area of 508.4 Km² and it shares boundary with Tangsibji and Drakteng Gewog to west and north, Korphu to the south and Zhemgang Dzongkhag to the east.
Paddy, maize, rice, wheat and vegetables form the major crops grown there, where cash crops like oranges, banana and guava are also grown.
The Gewog has one RNR center, two BHUs and six numbers of ORCs rendering basic services to the villagers. It has one Lower secondary School, four community Primary schools and seven NFE centers providing education facilities in the Gewog.  It has 55 numbers of telephone line connections.
Trongsa-Gelephu highway runs through the Gewog connecting most part of villages and plays a vital role in the flow of economy. Though highway runs through the gewog, most of the villages are still remote due to lack of farm roads.  The Gewog has two-approach road and very recently one of the existing farm road is further extended by constructing a new farm road from Yurdungchholing village to Langthil village.
There are three villages (Jangbi, Womling and Phungzor) where Monpas resides in the lower part of the Gewog who are all believed to be the first inhabitants of the country.