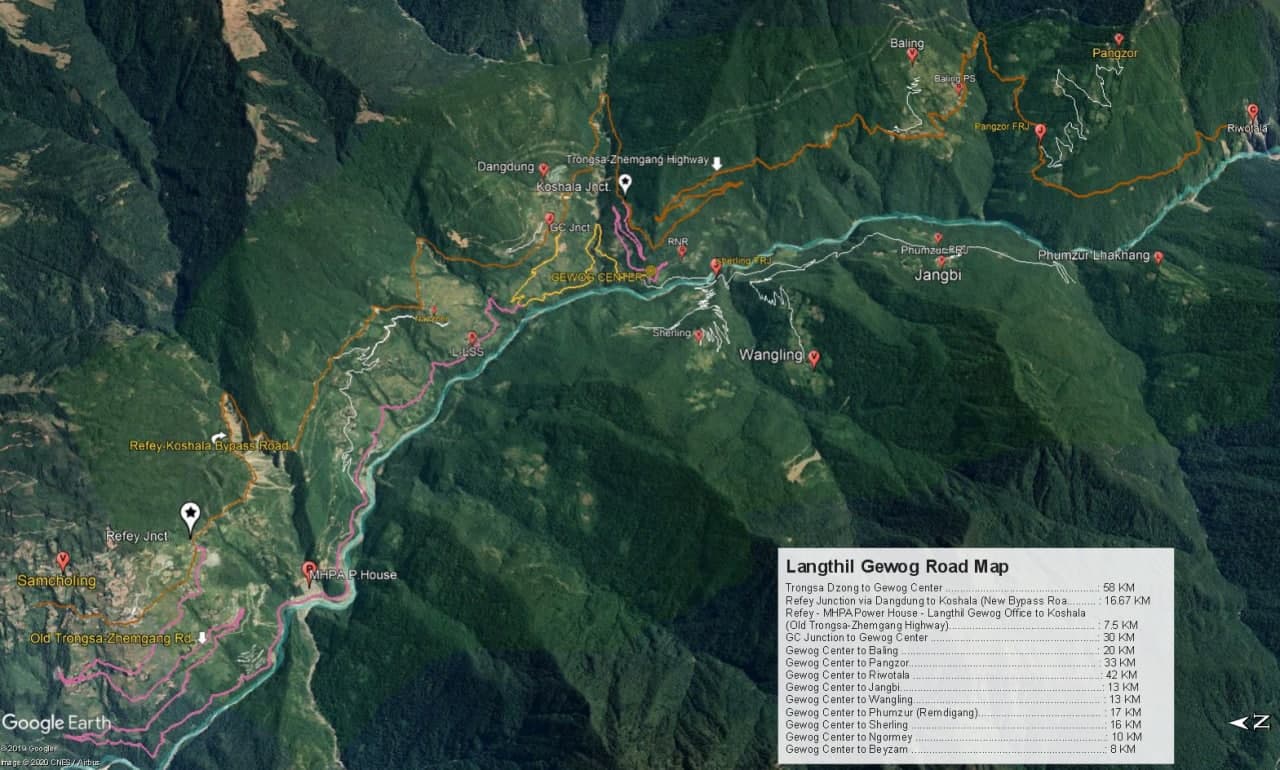 A group of people (Ancestors) migrated from one place to another in search of a favorable place for settlement. Half of the migratory group settled in a fertile place which is currently known as Dangdung while rest of them settled in the valley of Langthil after so many years of migration. There is a saying in the village that the place was discovered through an 'Ox' which miraculously used to graze in that particular area. People followed the Ox's indication and permanently settled in the area, thus naming the place as "Langthil".
The Gewog consists of five chiwogs and thirteen major villages with 748 households and the population of 3750 (2332 Males & 1418 Females). It covers an area of 508.4 Km² sharing its boundary with Tangsibji and Drakteng Gewog to west and north respectively, Korphu to the south and Zhemgang Dzongkhag to the east.
Chiwogs and Villages of the Gewog:
1. Langthil Chiwog: Namther and Ngada Villages
2. Dangdung Chiwog: Dangdung, Koshala, Beyzam and Ngormey Villages
3. Baling Chiwog: Baling and Pangzor Villages
4. Yuendrocholing Chiwog: Yuendrocholing and Beyling Villages
5. Jangbi Chiwog: Jangbi, Wangling and Phumzur Villages
Note*** Moenpas, who are believed to be the first inhabitants of the Country, resides in three villages: Jangbi, Wangling and Phumzur under Jangbi Chiwog.
People across the Gewog use Trongsab-kha which is similar to Bumthap-kha except for people of Jangbi Chiwog who use Moenkha for communication. 
There are several sites bonded with magnificient historical significances such as Yuendrocholing Dzong, Taktsherla Naktshang, Sherling Goenpa and other religious points.
Major crops grown are Paddy, maize, rice, wheat and vegetables. Oranges, Cardamom, Potatoes and chillies are some of the cash crops cultivated by the people of the Gewog. Dairy farming especially backyard dairy farming is the prominent livestock activity practised in locality. 
The Gewog has one RNR center, two BHUs and six numbers of ORCs rendering basic services to the villagers. It has one Lower secondary School, four Primary schools and four NFE centres providing education facilities in the Gewog. Some part of the Gewog (Left side of Mangdechhu) falls within Jigme Singye Wangchuck National Park and some areas are marked as biological corriders. 
Trongsa-Gelephu highway runs through the Gewog connecting most part of villages and plays a vital role in the flow of economy. Almost all the villages are connected to the Gewog centre and other facilities through farm roads enhancing better service delivery.