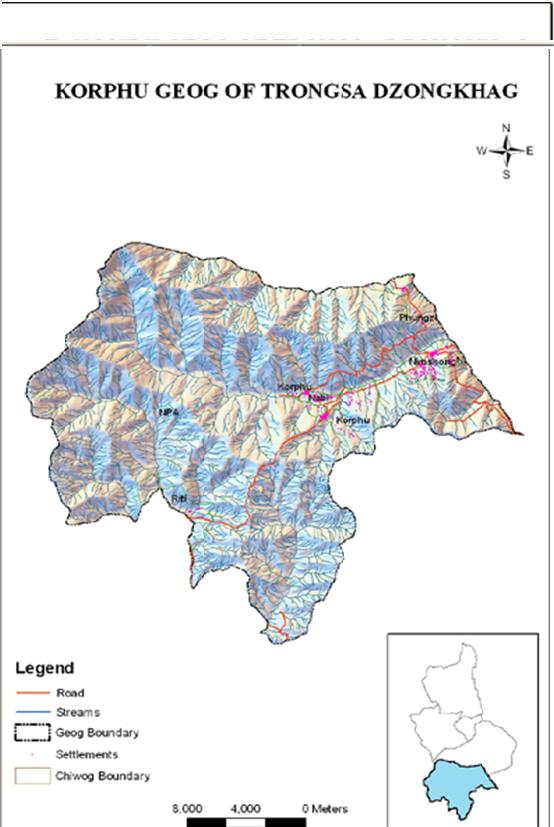 The Gewog is the farthest Gewog in the Dzongkhag with a total area of 288.1 Km². It is located to the left side of the mangdue-chu river. The whole Gewog falls under Jigme Singye Wangchuck National Park that covers an area of 1723 Km². It consists of 3 main villages with 210 numbers of households under the Gewog and 1001 number of population of which 533 are male and 468 are female according to the PHCB-2005 report.
This Gewog falls geographically to the south of the Dzongkhag and shares boundary with Langthel Gewog to the north, Wangduephodrang and Tsirang Dzongkhag to the west and Zhemgang and Sarpang Dzongkhags to the south.
The Gewog has been connected by farm roads recently but vehicles cannot be plied since there is no vehicle bridge over Mangdechhu, the one which was there had been washedaway by cyclone Aila in 2009. However new vehicle bridge is under construction by JICA. This will be completed by 2013.  The Gewog has 16 numbers of telephone line connected to the villages and offices. Nimshong village has been electrified recently and works for other villages are in progress.
The Gewog enjoys a warm climate with clayey loam soil type, with an altitude ranging from about 1070 meters to 1300 meters above sea level.
Crops like paddy, rice, wheat, maize and vegetables of all kinds are grown. A RNR center, BHU and three ORCs provides a basic service to the people of the Gewog. The Gewog has one Primary school, three Community Primary schools and three NFE centers providing education facilities even to the far flung villages.
The sacred monuments like Nabji Lakhang where tapering stone still exists, Kubdra, which are believed that Guru Padmasambhava has visited and meditated in this sacred site on his way back from Bumthang to India in the 8th century, are located in this Gewog.
Recently with the opening of Eco-Tourism trail from Langthil to Korphu goeg there has been an increase in number of tourists visiting the sacred sites. There are two camp sites developed.  One in Nimshong village and the other in Nabji Viallge.